We specialize in full service oil changes and quick, easy and affordable routine maintenance for your car, truck or SUV.

A properly maintained vehicle experiences less wear and tear and has a longer life span!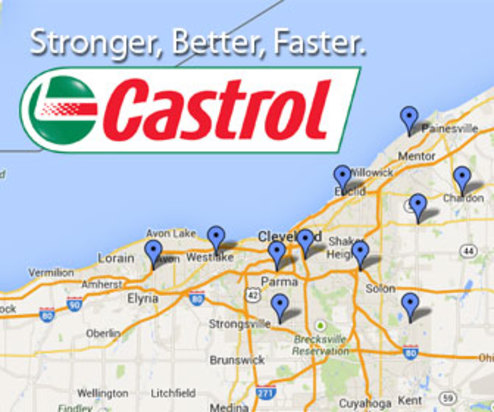 Quick Change About Us
QUICKCHANGE makes vehicle maintenance quick, convenient - and even a little fun. You relax in the comfort of your own car, enjoy a free newspaper and watch us go to work.
Founded in 1995, QUICKCHCHANGE has been servicing customers vehicles in Northeast Ohio. Every month thousands of customers choose QUICKCHANGE to provide
preventive vehicle maintenance where we uphold the company values of convenient , fast and friendly quality service.
We'll educate you about your vehicle and the benefits provided by quality services such as our 23-Point Full-Service Oil Change, Air Filter Replacement, Automatic Transmission Flush, Cooling System Flush, Engine Flush, Gear Box Service, Serpentine Belt Replacement, and Wiper Blade Replacement. All our services meet or exceed Your manufacturers warranty requirements.
Community
Committed to Our Communities
At QUICKCHANGE we believe strongly in the importance of the local communities that we serve, which is why we do more than contribute to our local communities. We're here to grow with them.
We are proud to support our schools, local charities and clubs and events and wish to play an ongoing role within our communities.
Environment

Commitment and Dedication to Our Environment
QUICKCHANGE is committed to the communities we serve and dedicated to the responsible business practices that reduce our environmental impact.
We have worked with certified environmental service providers since our inception in 1995, to ensure all the used oil we generate is safely handled and recycled and used for alternative fuel sources or stock for new lubricants. We also ensure that all used antifreeze is also safely handled and recycled.
Our commitment to responsible and environmentally friendly business practices is one way QUICKCHANGE is working to protect the communities we serve.
Synthetic Oil And the Environment
If you want a "Green" option for your oil change then ask our Technicians about using Synthetic oil in your car.
Synthetic oil is a lubricant consisting of chemical compounds which are artificially made (synthesized) using chemically modified petroleum components rather than whole crude oil. It provides superior mechanical and chemical properties than those found in traditional oil. Synthetic oils make for longer oil change intervals with less oil recovered over time .
In addition your vehicle will have better performance and fuel efficiency and last longer!